Grocery app development company in australia
masystems
Grocery app development company in australia
We at masystem australia an app development company provides best Grocery mobile app solutions for business sale their products online. Our end-to-end grocery solution includes separate apps for customer and delivery executive.We build powerful and secure back end admin dashboard to maintain the entire process. Get start your Grocery app development for your business today and increase your sales online.
There was a time when we have to prepare a long grocery list of needed things, have to schedule a day, visiting shops, spending time and returning home tired. But the time is different now. The mobile world has completely changed the scenario. Mobile applications are playing their roles everywhere.
Do you want your own Grocery Mobile app for your business? Then Smarther the best Online Grocery app development company fulfills are your requirements and needs. With the Grocery On Demand App, you offer delivery service to all your stores, which deliver things like vegetables, foods and other needed things.Our Grocery Ordering app provides more customer friendly and easy mechanism in placing orders and getting things home. This app provides a better way in generating revenues.
Sign up / Registration process
Login facility each time for security purpose
User can keep a list of their favorite items that they want to order
Scheduling the Delivery timings
Admin control for the owners to add and to update products and prices regularly.
Easy understanding of Admin panel for user Management, task management, blog and review management
Push notification features for customers regarding discount offers and so on.
Easy browsing and order tracking
Advanced search options
The Grocery On Demand app is customized in multiple languages for users convenient.
Messaging features between the customer and the providers
Supporting a wide range of categories
User friendly
Easy and secure Payment options were integrated
Social Media Integrations
Feedback and review options for users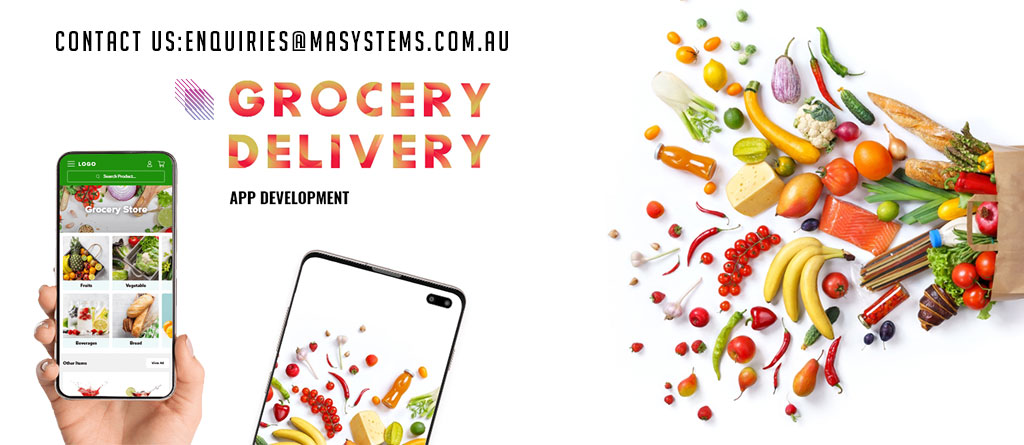 User Interface Features of Grocery App Development 
User Profile:
By entering into the application Log in and Registration is the first section to access. Generally Sign up and Login done with using email address or social media account.
Browse Products:
After successfully login into the app, then browse your grocery product. Choose categories in navigation for selecting required products. View product details and add to cart.
Search Products:
To find the required grocery product from the application, search option will help to list out the item. You can sort the list by using Filter, discount and more.
Schedule Delivery:
After choosing all your product from the grocery app development then place your order from the cart. Choose the payment method to complete billing and schedule the delivery.
Order Tracking:
By scheduling your order for delivery, Order tracing will help to check status of product delivery. It will help to track order from the vendor to customer.
Other Features:
The user app includes some other options including product order management, Payment option in multiple way, Discount and offer sale, Review and feedback options. The all above features will work seamlessly in both Android and iOS development.
Admin Panel Features of Grocery App
Dashboard:
For maintaining entire process from the back-end administration panel will be controlled by using dashboard. Here the entire process from product, inventory update to order management has been controlled.
Manage Stores:
The panel is the best way to maintain handle all stores and check their products update. This section help to manage all orders in a single place.
Assign Order:
The option allow managers to assign orders to grocery store when received request from the customer. This will help to make the process in a fluent way.
Manage Customers:
From the admin panel, the owner can able to manage all the customers who are installed the application and contact them.
Manage Payments:
The option help to manage payment method by customers while placing the order. All the transaction are done successfully by managing the panel option.
Other Features:
The admin panel includes many other features like Delivery Request Notification, Accept or Reject Delivery Request, Track Customer Location on Map, Get Delivery Conformation and more.
Smarther is technologically advanced and innovative Grocery App development company. We have a developers team of highly in-depth knowledge and good experience.
Our mobile technology helps you in building a customer-friendly mobile app.It is time to develop and launch your own grocery app.
Looking for Grocery app for Your Business ? 
Get in touch with our industry professionals at Smarther a best Grocery App Development Company, just with a click away, Contact Us
Not sure what to use? Don't worry, just flick us an email at enquiries@masystems.com.au and we will assist you make the best decision! Remember our consultation service is absolutely free.